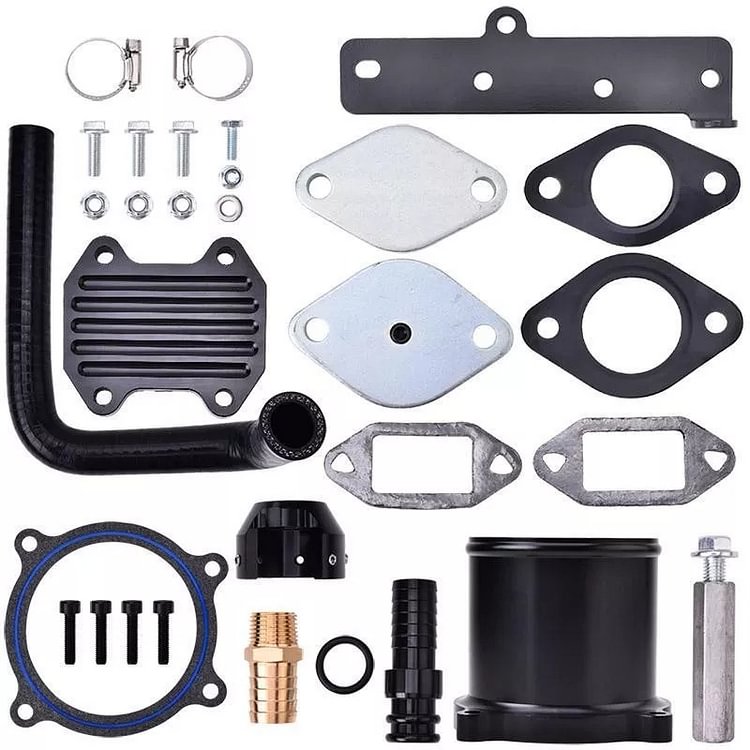 What Are The Benefits of EGR Delete?
An EGR delete can bring about several benefits. These include:
Improved Fuel Economy and Engine Longevity
An EGR delete helps you restore your diesel engine's power levels which, in turn, also restores your overall fuel efficiency. Since an EGR delete kit sends the exhaust gas away from your car's engine, it starts to run cleaner, too.
Not only does it make the process increasingly efficient, but it also reduces the chances of DPF (diesel particulate filter) failure. So, overall, with this aftermarket kit, you can see an increase of up to 20% in your fuel economy. Along with that, the EGR delete kit can also improve your engine's longevity.
Reduced Engine Temperature
EGR valves naturally contain a high content of soot. When the EGR system's valve or coolers get clogged with soot, the exhaust gases start to circulate more around the system, resulting in a blockage.
As a result, the temperatures around the engine rise and you experience a reduction in the engine's power. However, when you bypass this, lower exhaust gas is produced. In turn, during operation, your vehicle experiences a reduced engine coolant temperature.
Helps Save Money
In addition, an EGR delete can also help you save money on some costly repairs. The EGR, if damaged, can be quite costly to repair and replace.
An EGR delete removes the possibility of such damage, thereby saving your money.
FUNCTION
: Coolant temperature run cooler because they are not running through EGR Cooler. Eliminates soot build-up and clogged EGR Valves. Hot exhaust gasses are not being re-routed back into the motor.
Details and Specifications
:
Weight
: 2510g
Item Type
: EGR Cooler Throttle Valve
M9aterial
: Aluminum Alloy
Models
: 2500 3500 4500 5500
Fitment
:
2013 - 2018 DODGE RAM TRUCKS
6.7L (408CID) OHV L6 DIESEL TURBO
BRAND NEW EGR VALVE COOLER DELETE KIT & Throttle Valve Removal
Fitment Guide
:
2013-2018 Dodge Ram 2500 6.7L 408ci OHV L6 Cummins Diesel Turbo
2013-2018 Dodge Ram 3500 6.7L 408ci OHV L6 Cummins Diesel Turbo
2013-2018 Dodge Ram 4500 6.7L 408ci OHV L6 Cummins Diesel Turbo
2013-2018 Dodge Ram 5500 6.7L 408ci OHV L6 Cummins Diesel Turbo
Package Including
:
1 * Coolant Hose
1 * Coolant Standpipe Adapter w/O ring
1 * Locking Collar w/ Set Screws
1 * Threaded Stud w/ Flange Nut and Stud Spacer
3 * 5/16 Bolts, Nuts, and Flat Washers
1 * 1/4 Hex Head Bolts
1 * EGR Block Off Plate w/ O-Rings
1 * Front Block Off Plate
1 * Rear Block Off Plate
1 * Support Bracket
2 * Hose Clamps
1 * Throttle Valve Pipe With a Powder Coat Finish
1 * Replacement Throttle Valve Gasket
4 * Throttle Valve Mounting Bolts
Note:
The colors deviation might differ due to different monitor settings, please kindly understand.
Please tell us first when you have any problem, we will give you the best service and solve the problem ASAP. Thank you so much.