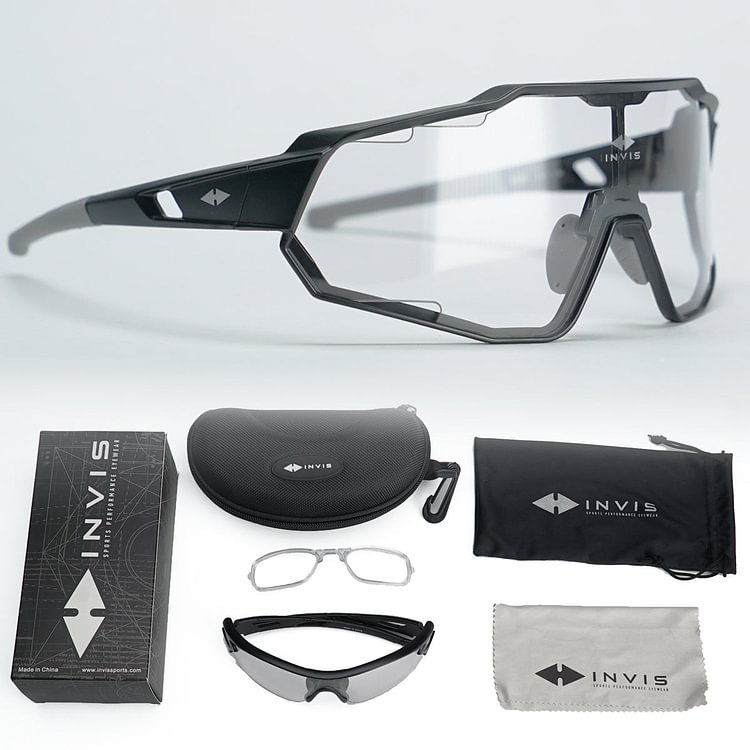 These high-tech cycling glasses automatically adapt to lighting conditions--no batteries required. If the sun is shining bright, they darken like sunglasses:
If it gets cloudy/dark, they become clear again:
How? Our Velocity 7 lenses are specially designed to respond to the ultraviolet (UV) wavelengths in sunlight, quickly becoming dark.
Cheap plastic? Nope. We use advanced, expensive TR-90 technology in our frames. The lenses are certified impact resistant under 21 CFR 801,410. If you fall, worry about your bruises, we'll take care of the glasses. 

Beautiful design. We take pride in the quality of our frames and lenses.
One size fits all. The adjustable nosepiece and temples is made from advanced form-fitting plastics. Easily fit your glasses comfortably on any face. The arms can also be molded into shape for the perfect tension, keeping your glasses snug but not too tight.
UV400 protection (UVA+UVB) & comes default for all lenses.

Included with your purchase
Hard carrying case
Soft protective bag
Lens cleaning cloth
Complimentary prescription inserts included with every pair. Note that Rx lenses are not included, they will need to be taken to a licensed optician to be fitted with your prescription.
Is it going to fog up?
The Velocity 7 is designed with a whopping 6 vents, to ensure fogging is never a problem. Just because you want a large lens, doesn't mean you have to settle for foggy, cloudy vision. Have your big lenses and eat them too.

(We don't recommend eating your Velocity 7's)
Optimized for sports
Road cycling
Mountain biking / MTB
Running
Canoeing / Kayaking / Boating
Golfing
Fishing
Shooting, at the range or hunting

Glasses Dimensions
2.375 inches tall
5.9 inches wide, hinge to hinge.
Adjustable temples (arms) makes for a comfortable fit on smaller and larger faces.