| | | |
| --- | --- | --- |
| US | EU | UK |
| 5 | 35.5 | 3 |
| 5.5 | 36 | 3.5 |
| 6 | 36.5 | 4 |
| 6.5 | 37 | 4.5 |
| 7 | 37.5 | 5 |
| 7.5 | 38 | 5.5 |
| 8 | 38.5 | 6 |
| 8.5 | 39 | 6.5 |
| 9 | 39.5 | 7 |
| 9.5 | 40 | 7.5 |
| 10 | 40.5 | 8 |
| | | |
| --- | --- | --- |
| US | EU | UK |
| 8 | 41 | 7 |
| 8.5 | 41.5 | 7.5 |
| 9 | 42 | 8 |
| 9.5 | 42.5 | 8.5 |
| 10 | 43 | 9 |
| 10.5 | 43.5 | 9.5 |
| 11 | 44 | 10 |
| 11.5 | 44.5 | 10.5 |
| 12 | 45 | 11 |
| 12.5 | 45.5 | 11.5 |
| 13 | 46 | 12 |
The Arch Support Orthopedic Sandals for Women is a two-strap, athletic-inspired sandal with a pretty design.

These arch-support sandals, designed with you in mind, include cushioned smooth technology that provides incredible comfort.
The orthotic sandals can be adjusted while maintaining a tight fit thanks to the sling-back hook and loop closure.
The sandal's extremely light EVA base makes it perfect for long-distance walks, standing during sporting events, or relaxing at the beach.
MINIMIZE DISCOMFORT
Soft and thick soles can give the feet the most pleasant foot feeling and lessen discomfort brought on by improper walking form.
ANTI-SLIP STRUCTURE
To minimize unintentional slippage, the sole has a non-slip material. The durable and all-around solid rubber outsole can quickly adapt to various surfaces and offers superb traction.
OPTIMAL WEIGHT DISTRIBUTION
Our three-arch support system consistently distributes your weight equally between your toes, arch, and ball of your feet.
LIGHTWEIGHT WEDGE SANDALS
Although it is lightweight, the wedge form allows you to walk more solidly and stand for extended periods without discomfort or instability.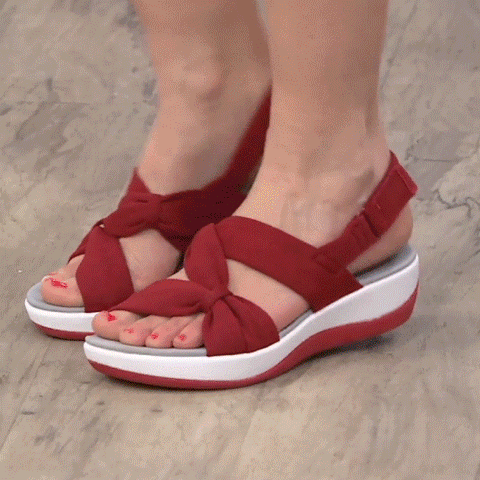 The orthopedic arch support sandals realign skeleton placement by balancing your feet at the ideal angle in their natural position. This reduces muscular imbalances and corrects posture.
To increase support, put them on and secure your foot around the toe clasp.