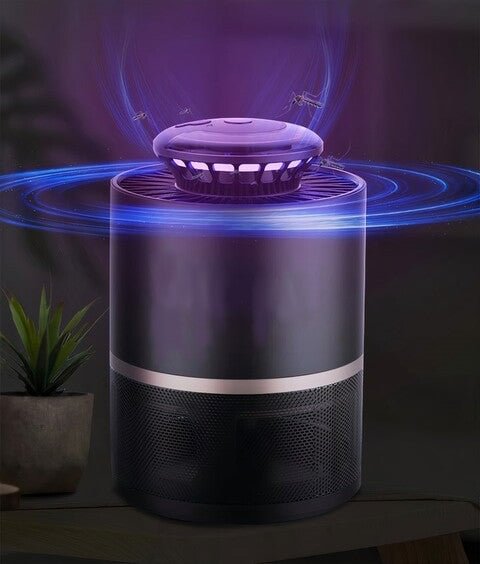 PROTECT YOUR HOME FROM ANNOYING INSECTS
Are you being bothered by annoying mosquitoes, fruit flies, gnats, and other insects while sharing with your loved ones or even when trying to sleep?
The Smart Insect Trap catches flies, gnats, mosquitoes, and other small bugs in your home or business naturally and safely. 
This Indoor Mosquito Killer is easy to use and blends in stylishly anywhere you put it.
It is one of the best possible solutions to get rid of mosquitoes, fruit flies, gnats & insects in your home or office. 
It uses a new and unique technology method with UV that bugs, fruit flies, and insects can't resist. Additionally, it is non-toxic and chemical-free. 
Non-Toxic & Chemical-Free
Safe for your family. No zapping, completely chemical-free, and no weird smells! It eliminates the need for pesticides or toxic candles altogether. Absolutely safe for you, your children, and your pets.
UV Pest Control Technology
It uses a unique dual method combining Ultra-Violet (UV) light and carbon dioxide that bugs can't resist. When approached they are pulled into the retaining cage where they dehydrate and die!
Effective & Immediate Results
Within one week you will see a noticeable reduction. Protects up to 300 square feet from all kinds of annoying insects including not only mosquitoes but also flies, gnats, moths, and other bugs
FEATURES
✔️ Nontoxic
Nontoxic and contain no insecticide, suitable for indoor home use.
✔️ Centrifugal Pressure Mosquito Escape Prevention
The large suction motor stirs the surrounding air to suck the mosquito into the bottom of the trap and prevent it from escaping.
✔️ Large Area of Operation
Capable of trapping mosquitoes within 51sqm to 100sqm from the trap.
✔️ Quiet and Comfortable To Use
Ultra-Quiet motor to ensure you have a good night's sleep.
✔️ Powered By USB Power Supply
The USB power port allows you to power and uses it with an adapter, power bank, computer/laptop, etc.
✔️Stylish & Compact
Compact and minimal design, makes it look great in any environment.
✔️Easy To Clean
Just unlock the storage box and empty the dead mosquitoes.
How Ultra LED UV Mosquito Killer Works?
Attracts – First of all, this device attracts mosquitoes toward itself using its UV light.
Kills – All the mosquitoes that are attracted toward the light are captured in the 360-degree rotating fan.
Traps – The mosquitoes that are not killed but trapped get collected in the removable basket of the device.
Dehydrates – Ultra LED UV Mosquito Killer dehydrates the live and trapped mosquitoes of water as a dehydrator is attached. In this manner, it kills all mosquitoes around it.
 

Package Includes :
1 x Ultra LED UV Mosquito Killer Device
1 x USB Powered Cable
1 x User Manual