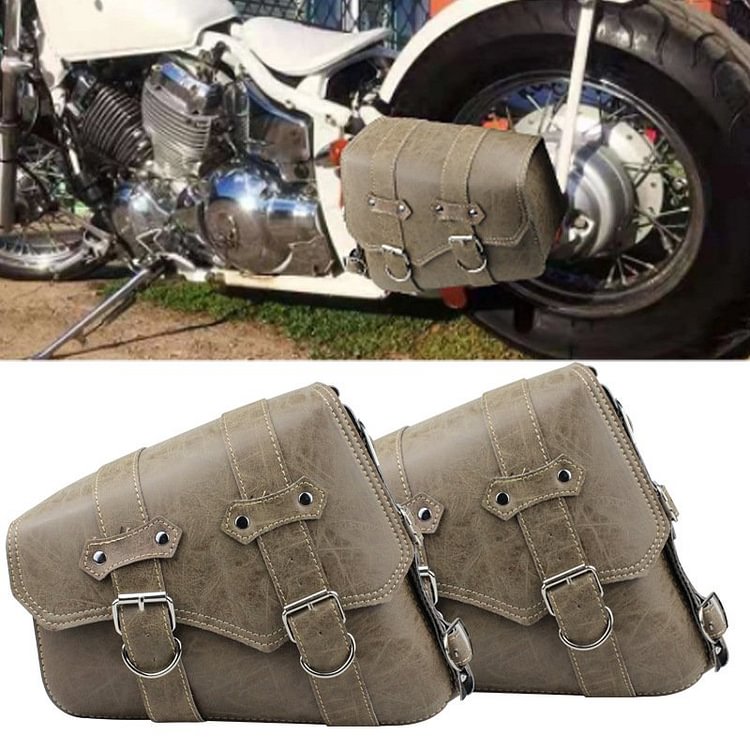 This bag is suitable for Softail or universal motorcycle, hanging under the frame model or custom use.
This motorcycle skull saddle bag will make you and your motorcycle stand out from the crowd! And draw attention to your car enough to show your personality.
Durable & Good-Looking

Durable swing arm bag construction uses  synthetic leather and  buckles with quick-disconnect buckles hidden under the straps.
Fits On Most Triangulated Swingarm Hogs

Fits bikes with dual shocks, with bag, mounted on the left side. This bag will fit most custom hardtail bikes if mounted on the right side.
Holds Tight In Any Weather Condition

Includes three leather mounting straps with chrome buckles for simple, secure installation to the motorcycle. Slots are pre-cut in the back of the bag for installation using leather straps.
Motorcycle side bags are hand-cut, dyed, and stitched from sturdy, high-quality cowhide vegetable leather for durability. Made of 4-5 mm thick vegetable leather. All accessories used on the bags are rust-proof. Saddlebags with a thick and durable black ABS Styrene plastic panel on the back. The thick leather and sturdy backing keep the bag strong and prevent sagging.
About vegetable leather: 
Vegetable-tanned leather is the tanning or method of tanning cowhide into leather.
It is called "vegetable" because of the use of natural materials such as tree bark in the tanning process. Sometimes referred to as vegetable tanning or vegetable tanning, it is one of the oldest tanning methods known to man. What makes vegetable tanning so unique. Vegetable-tanned leather also tends to age better and develop a rich luster over time. It has that awesome classic leather smell. Sunlight, daily handling, water, and conditioning give natural vegetable tanned leather a rustic look over time. To condition the leather, you can use natural oils and shell waxes. We also recommend using something like a leather balm. As it says on the tin, it waterproofs, restores, and protects.
Product Information
Handmade
Material: leather, metal accessories, vegetable leather, skull, hand-stitched
Product Dimensions ‎9.8 x 9.4 x 4.3 inches
Item Weight: 500g
What's in the box
Swingarm bag
Three leather straps