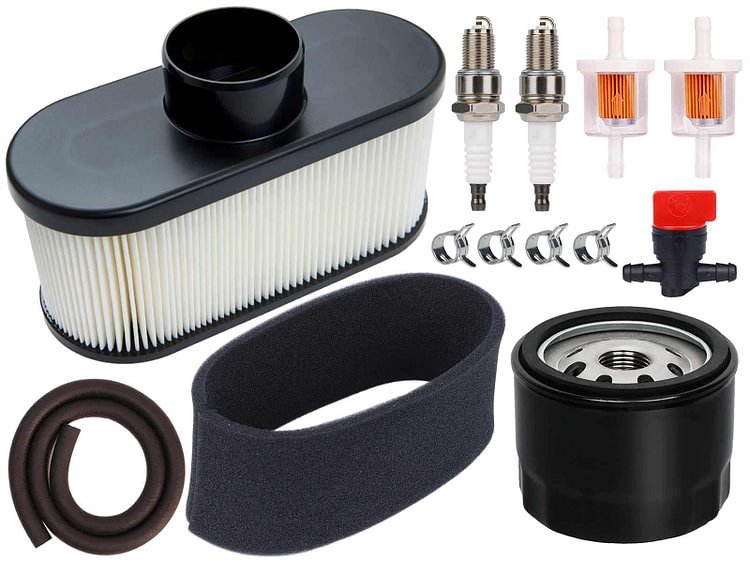 Premium Kit: Exactly fit Kawasaki 4-stroke engines FR651V FR691V FR730V FS481V FS541V FS600V FS651V FS691V FS730V air filter tune up kit, for Kawasaki 49065-7007 49065-0721 oil filter, 11013-0752 11013-7047 11013-0726 air filter.

Professional Filter: Air filter kit also for Kawasaki 11013-7049 99999-0384, John Deere MIU12554 MIU12555, Gravely 21548000, Hustler 603059. Fit Hustler FasTrak Raptor series 42" 48" 52" 54" 60" zero turn mower air filter tune up kit.

Mower Parts: Quality maintenance kit for Kawasaki FR FS series engine. Fit John Deere X300 X500 ZTrak series, Toro TimeCutter SS 5000 SS 5060 MX 5060, Cub Cadet, BobCat, Exmark, Gravely zero turn mower tractor air filter tune up kit.

Well Made: Factory parts, select high-quality materials, well made and tested. Perfect fit, easy to install, breathe better, provide reliable protection. The same performance as OEM parts but less costly, simple and fast maintain pleasure.

Great Value: You will get 1× air filter, 1× pre cleaner, 1× oil filter, 2× fuel filter, 2× spark plug, 4× clamp, 1× shut off value, 1× fuel line. Our friendly and prompt customer service. [Air Filter Size: 6-5/8" length x 2-3/4" width x 3" height]
FR691V Tune Up Kit for Kawasaki FR FS Series 4 Stroke Engine Zero Turn Mower / Tractor
Work with FR651V FR691V FR730V FS481V FS541V FS600V FS651V FS691V FS730V Engines
All-in-one tune up kit, perfect fit, provide reliable protection.
for Kawasaki 11013-7047 Air Filter, 49065-7007 Oil Filter.

Air Filter Also Fit John Deere MIU12555, Gravely 21548000, Hustler 603059 and More.

Be Used for Zero Turn Mower, Lawn Tractor, Walk-Behind Mower and More.

Factory Parts, Well Made.

Easy to Install.
Well Made and Quality Parts for Kawasaki 4-stroke FR FS Series Engines
Max Fresh Air Flow

Premium and breathable filter paper, assure max air flow, same time effectively prevent dust and dirt from damaging engine.

Professional Oil Filter

Reliable oil filter capture fine harmful particles, keep oil clean and lubricate well.

Easy to Start Up

Factory parts, select high-quality materials, well made.
[Air Filter Size: 6-5/8" Length x 2-3/4" Width x 3" Height]
Air filter replace for Kawasaki OEM # 11013-7047 11013-0752 11013-0726 11013-7049 99999-0384, pre-cleaner 11013-7046

Air filter also compatible with Hustler 603059, Gravely 21548000, BobCat 4164631, John Deere MIU12555, pre-cleaner MIU12554
[Oil Filter Size: Height 2-1/4", Outer Diameter 3", Grade 25 Micron]
Oil filter replace for Kawasaki OEM # 49065-7007 49065-0721, John Deere AM125424
Tune Up Kit Fit Kawasaki FR651V FR691V FR730V FS481V FS541V FS600V FS651V FS691V FS730V 4-stroke Engines
Tune Up Kit for Mowers with Kawasaki 4-stroke FR FS Series Engines as Follows:
Fit Hustler Raptor, FasTrak, TrimStar series 42" 48" 52" 54" 60" zero turn mower.

Fit Gravely HD XL X series zero turn mower, stand-on / pro-stance / walk-behind mower.

Fit John Deere S200 X300 X500 series lawn tractor, Z400 Z500 Z600 Z700 ZTrak series zero turn mower, commercial walk-behind mower.

Fit Toro TimeCutter SS5000 SS5060 MX5060 riding mower.

Fit some Exmark, BobCat, Cub Cadet, Husqvarna riding mower.
Please compare this kit with your original, to make sure they are exactly what you are looking for.
Package Includes:
1× air filter

1× pre cleaner

1× oil filter

2× fuel filter

2× spark plug

1× shut off value

4× clamp

1× fuel line